The top 5 Fitness Christmas Gifts for 2012
5.
THE NIKE FUEL BAND
This product allows you to document your daily activity levels and blinks bright when you have achieved your "goal" for activity for the day. Great for the person who hates to work out, but wants to stay in shape.
4.
NIKE KINECT TRAINING
This is a video game...yes a video game that allows you to use your Xbox as your in home personal trainer. It has reaction based workouts and it also "remembers" your workouts so that you don't have an opportunity to plateau. This is a great way to burn off the calories you consume at holiday dinner but also a good way to "trick" your relatives that may need to lose a little bit of bulge into getting some activity on a normally sedentary holiday event.
3.
iMuffs Wireless Headphones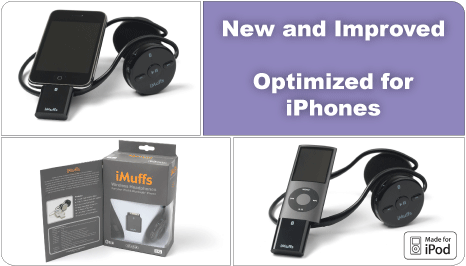 Ever go to the gym and you are trying to do mountain climbers/powercleans/burpees and your cord gets in the way of your workout, unplugs from your ear, or pulls the headphone jack out of your iPhone/iPod???? Well....NO MORE! This product allows you to go completely wireless using bluetooth technology. If you can't go completely wireless due to your generation of phone or iPod, you can use an adapter (shown in the photo above) to make it work.
2.
Phillips "Wake Up" Light
Do you have a hate/hate relationship with your alarm clock? I know I do FOR SURE...me and my alarm clock just....do not get along. But all hope is not lost with the Phillips Wake Up Light. This product wakes you up in the morning with gradual natural light with options for music or pleasant wake up sounds. So instead of waking up to EEEEEEHHHH....EEEHHHH....EEEHHH....EEEHHHHH everyday for the rest of your life, you can wake up to silent light, Michael Jackson-PYT, FM Radio, or the Rainforest if that is what you choose to do!
1. THE BEST HOLIDAY FITNESS GIFT IS YOU!!!!!!
Studies show that having a workout buddy can:
Make workouts seem shorter

Being able to talk and laugh about a super hard workout allows you to take your mind off of the HARD part, but still accomplish the goal. The workout now becomes "fun" instead of "fearful"

Make you push yourself harder

When you work out with another person you always tend to want to go at that person or make that person proud. You end up competing with their body, or their expectations. Either way both help you in the long run.

Make you branch out in your community.

Maybe you only like boot camps...but your friend likes crossfit. Getting out of your comfort zone allows you to break through plateau's. Challenging yourself to different experiences and exposing yourself to new activities allows for you to meet new workout partners.

Make you accountable.

Forgot your work out socks? "Oh ok that's cool I have an extra pair."
Man I really don't feel like working out what about you? "Hell yeah man lets get it in quick"
A good workout buddy goes both ways. Hold them accountable and hold yourself accountable!
I hope you enjoyed this top 5 holiday fitness guide and for more updates please follow us on twitter
@BryensBootCamp
and on our
Facebook Page (click here)